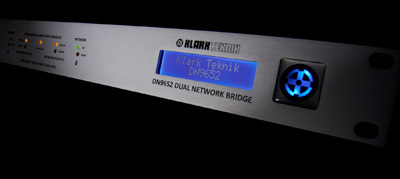 Klark Teknik has launched two high-channel count digital audio format and sample-rate converters – the DN9650 and DN9652.
The DN9650 network bridge allows the AES50 interfaces on Midas XL8 and Pro Series digital audio systems, and KT's own DN9696 high-resolution audio recorders to connect to third-party multichannel digital audio networks. Supported formats include Madi, Audinate Dante, Aviom A-Net, Cirrus Logic CobraNet and Digigram EtherSound, using network modules designed and manufactured by Lab X Technologies, Audinate and Cirrus Logic.
The DN9652 format converter replaces the AES50 connections with a slot for a second network module, enabling conversion between digital audio formats (Madi to Dante, CobraNet to Ethersound…). The DN9652 will additionally find a uses solving 'hard to fix' networking problems in requiring little networking skill.
Both models include 144 channels of high-performance sample-rate conversion and independent synchronisation for the two interfaces, including black burst, word clock and AES3. The minimal configuration requirements are simply set up using a standard web browser and an auto-configured Ethernet interface to the unit.
'This is the product that digital audio systems engineers have been dreaming of for years,' says Midas and Klark Teknik MD John Oakley. 'No more worries about incompatible networks or expensive network trained system technicians. Just plug it in and watch it work.'
More: www.midasklarkteknik.com