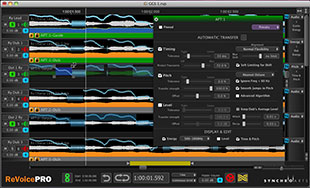 Synchro Arts has released Revoice Pro 2.2, updating its professional vocal/dialogue processing program.
Typical applications include tightening the timing, pitch and vibrato of 'stacked' lead and backing vocals or instrumental tracks; creating realistic double tracks from a single input track; lip-syncing dialogue (ADR) and vocals by the same or different performers; and changing the inflection in dialogue (ADR, voiceovers and similar) to match other vocal patterns.
Revoice Pro includes two unique automated processes – Audio Performance Transfer (APT) process and a Realistic Doubler. The APT function automatically transfers selected timing, pitch, vibrato, inflection and/or loudness characteristics of a guide audio signal to one or more target audio signals (dub). The APT process is powered by and includes an advanced version of VocALign.
The Realistic Doubler function instantly creates natural-sounding mono or stereo double tracks from one input signal. It can also provide creative time and pitch modulation effects. Additionally, ReVoice Pro provides user control of the tightness of the time, loudness and pitch correction.
The program integrates with Mac and Windows-based digital audio workstations. Included with the program are AAX, Audio Suite, VST3 and AU Link plug-ins for one method of transferring audio to Revoice Pro from DAWs. Plus there are additional plug-ins for efficient monitoring options and synchronised playback with your DAW.
Key features:
· APT and Doubler functions. Two unique, adjustable, automatic processes
· Manual pitch, time and waveform editing options
· Process-based audition: Instant before and after processing comparison of one or two signals
· Protected Regions: To avoid creating artefacts by not processing the time, pitch or both in small, user-defined areas of signals where Guide and Dub differ
· Stand-alone program: Works with DAWs on Mac and Windows including Pro · Tools, Cubase, Nuendo, Logic, Live
· Multiple methods for efficient audio transfers: Includes drag and drop, plug-ins, and export tool, all able to place output at correct time in DAW
· Monitoring plug-ins: Play through DAW hardware (including Pro Tools HD); and playback in sync with DAW and video playback
· Multiple view windows, multiple open sessions
· High-quality scrubbing (multitrack)
A 14-day free trial license (iLok-based) for Revoice Pro, as well as full licenses (iLok-based) can be purchased from Synchro Arts dealers or on-line via the company website. Revoice Pro holds an RRP of US$599/€449 (ex VAT)/£374 (ex VAT).
More: www.synchroarts.com