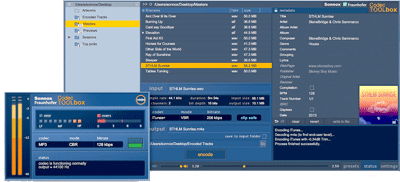 Aimed at musicians, DJs, producers and engineers, the Sonnox Codec Toolbox promises an 'affordable' means of encoding music for web posting.
A collaboration between plug-in developer Sonnox and MP3 creator, the Fraunhofer IIS, Codec Toolbox offers real-time codec auditioning, metadata editing and batch encoding.
Codec Toolbox is comprised of two applications: the Toolbox Plug-In, for real-time mix auditioning through various codecs, and the Toolbox Manager, for encoding and adding metadata. A 'clip safe' function ensures clean encoded files, as the software auto-compensates for any overs during the encode process.
'The impact made by the Pro-Codec on the professional mastering world convinced us that today's generation of independent producers, engineers and artists need their music to sound great in every format,' says Sonnox Sales & Marketing Manager, Nathan Eames. 'The Codec Toolbox uses high quality codecs from Fraunhofer and Apple to ensure that every mix sounds as good online as it does in the studio.'
Codec Toolbox is priced at £35 (US$55 excluding sales tax).