A new line of expansion modules from RTI offers expansion of RTI control systems – the RCM-4 relay control module joins the ESC-2 serial control and PCM-4 port control modules in allowing any RTI XP series control processor to be expanded via a local Ethernet network.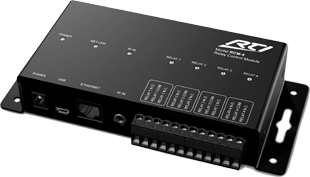 The PCM-4's four MPIO ports and 12V DC voltage trigger output extend control to devices throughout larger installations. When used with RTI accessory devices, each MPIO port can provide IR routing capabilities, one-way RS232 communication and power sensing.
The ESC-2 allows the addition of two bi-directional serial ports. Meanwhile, the RCM-4's four relays can be used in a normally open or closed configuration for control over items such as window blinds to screen lifts.
In addition to control from an XP series control processor, the RCM-4 features an IR input to allow command triggering from a variety of sources, such as RTI in-wall controllers or third-party infrared repeater systems.
These modules work within RTI's Integration Designer programming software for quick and simple set-up, and multiple modules can be used for virtually unlimited control of devices. Additionally, the PCM-4 and RCM-4 units can be powered by their included power supply or Power over Ethernet (PoE) to simplify installations.
'The PCM-4, ESC-2 and RCM-4 allow installers to provide discrete control over devices in every room throughout an installation, while maintaining the benefits of having one centralised control system for lighting, HVAC, multi-zone audio, and more,' says, RTI VO of Sales & Marketing, Pete Baker. 'By utilising Ethernet networks and eliminating the need for multiple processors, this line of modules provides our dealers with these advantages at a dramatically reduced cost.'
More: www.rticorp.com