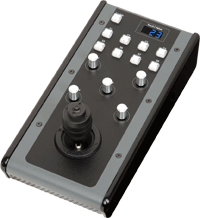 JLCooper has introduced the Nuage Panner and Eclipse PX panner.
The Nuage Panner is a surround pan controller designed to mount directly into the Yamaha/Steinberg Nuage console expansion chassis, while the Eclipse PX is a standalone panner.
Both panners have a custom software plug-in for Steinberg Nuendo and combine a three-axis joystick with push-button rotaries, illuminated buttons and an LED display for indicating track number.
More: http://www.jlcooper.com