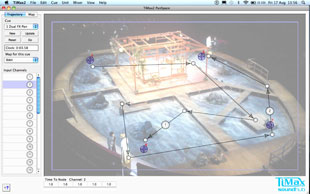 Out Board used the Pro Light & Sound show to debut its TiMax2 SoundHub PanSpace graphical sound-effects pan programming application, which works in conjunction with the S-Version TimeLine editor.
PanSpace allows multiple fully-editable pan trajectories to be applied in any Cue, animating multichannel audio from TiMax SoundHub's internal hard-disk or using external audio and Midi/MTC trigger systems such as QLab. Aimed at theatre and live events sound designers plus A/V, museum and attraction integrators, S-Version showcontrol functions include: Timeline cue programming with a variety of showcontrol Trigger and Event formats. Multitrack audio playback functions include: clip editing, looping, timeslip, mix automation and archiving, plus the object-based delay-pan programming.
TiMax SoundHub is a multichannel audio matrix and playback server for use in theatre and opera sound, live events, A/V installations, nightclubs and attractions, as well as corporate and retail environments. It comprises a scaleable matrix mix engine – 16 to 64 channels in/out with up to 64-tracks of random access audio playback – housed in a single 2U-high chassis. System features include: linkable and storable input and output parametric EQ, assignable zone level control groups and dynamic delay-matrixing for real-time audio localisation of, as well as 3D surround sound for effects and music. Simple auto-config plug-and-play networking allows control from multiple PC and Mac clients or touchpanels from Crestron, AMX or Out Board's new iPad server app.
TiMax system options alsdo include networking using Madi, EtherSound, Cobranet and Dante.
More: www.outboard.co.uk