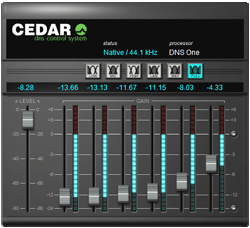 Following Avid's implemetastion of the AAX plug-in format, Cedar Audio has delivered the DNS One AAX – an AAX Native plug-in that combines the DNS One process with the DNS CS remote control for the DNS2000 and DNS3000.
Compatible with the latest Pro Tools 10 systems, DNS One AAX retains the zero latency of previous versions and offers the same noise suppression as the DNS1000, DNS1500, DNS2000 and DNS3000. Existing users running DNS One on Intel-based Mac systems may upgrade to DNS One AAX (which also supports Audiosuite) free of charge. Those running a more complete suite of Cedar Studio processes may do so for a nominal charge.
Pricing remains unchanged from previous (RTAS and Audiosuite) versions.
More: www.cedaraudio.com