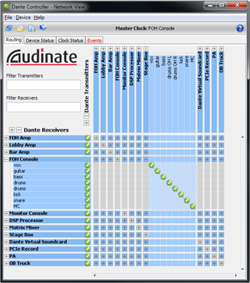 Audinate has released Dante Controller v3.2.9 software, adding support for Yamaha HA Remote mode toggling, and also Mac OS-X 10.8.
Available for both Windows and Mac platforms, Dante provides high-performance digital media networking for live sound, A/V installations, broadcast and recording over 100Mbps and 1Gigbit Ethernet. Its low latency, sample-accurate playback synchronisation, high channel count and plug-and-play. Operation has been adopted by more than 60 OEM customers across the A/V industry
'Support for HA Remote in the latest version of Dante Controller, together with the latest release of Dante-MY16-AUD firmware, means that the head amps in Yamaha Rio3224-D and Rio1608-D I/O rack units can be remotely controlled from such equipment as M7CL or LS9 digital mixing consoles,' says Audinate Director of Product Delivery, Mary Cudmore.