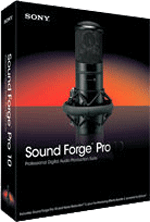 Sony Creative Software has added Sound Forge Pro Mac 1.0 software to its line of audio and video production software.
'It's no secret that cross-platform professionals have been demanding Sound Forge for the Mac for years. Our response is Sound Forge Pro Mac, a truly contemporary OS-X design,' says Dave Chaimson, VP of Global Marketing for Sony Creative Software.
'People who work on audio editing platforms recognise the need for a fresh option in the marketplace, one that's built for OS-X as opposed to something that's simply been ported over. Producers will appreciate its simple elegance, uncluttered look and amazing flexibility. The included suite of mastering and repair plug-ins make v1.0 a value-packed editing powerhouse right out of the box. Sound Forge Pro Mac is our second major OS-X application release this year, and we're pleased to now be actively engaged in application development for the Mac platform.'
A multichannel audio recording and editing application, Sound Forge Pro Mac software was developed from the ground up for OS-X. The application ships with a suite of audio mastering and repair plug-ins.