Sound restoration and processing specialist Cedar Audio has announced a major upgrade for its DNS One dialogue noise suppressor plug-in and associated DNS Control System (which also supports the DNS2000 and DNS3000 dialogue noise suppressors).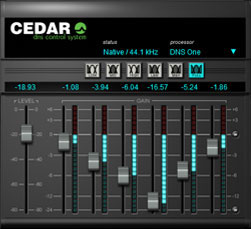 In response to customers' requests, the Control System now supports PPC-based Macs running OS-X 10.4 onward. This means that the DNS One, the DNS2000 and the DNS3000 may all be used with and controlled from appropriate versions of Pro Tools running on these hosts. AudioSuite capability has also been added to the DNS One, which will enable it to fit more productively into the workflow of many postproduction engineers and other users.
A number of functional improvements to the Control System have also been implemented, most significant of which are new controls that considerably reduce set up time for each job, whether being processed by the DNS One or by DNS2000s and DNS3000s. In addition, enhancements to the control of multiple DNS3000s over Ethernet have been implemented, as well as improvements to the DNS3000's Touch mode and the method of selecting which hardware units are selected and controlled.
The updated versions of the DNS One and DNS Control System are immediately available and the price remains unchanged. The new versions are available free of charge to all existing users of the DNS One, DNS2000 and DNS3000.
More: www.cedaraudio.com