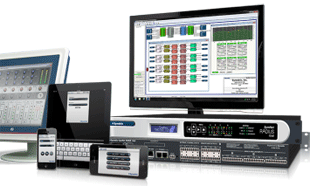 Symetrix has released the Radius 12x8, a Dante-networkable, fixed I/O, open-architecture digital signal processor for its SymNet platform.
Radius may be installed as a standalone processor or used in conjunction with SymNet Edge or third-party Dante network enabled devices to achieve scalability and flexibility for either simple or complex installations.
'The Radius 12x8 is an extremely powerful installed sound DSP making use of one of the industry's most popular input/output form factors – 12x8,' says company CEO, Paul Roberts. 'In response to integrator feedback, the SymNet Radius 12x8 includes ARC-Web, our simple yet powerful browser-based user control technology, compatible with Apple and Android smartphones and tablets.'
Audinate's Dante technology transports high-quality media over standard IT networks, as a self-configuring, plug-and-play digital audio network that uses standard Internet Protocols
'Symetrix has done its research and is seizing the opportunity with the launch of the Radius 12x8 – its second Dante-enabled product to hit the market in 2012.' Says Lee Ellison, Audinate CEO. 'With Radius, customers will be able to easily connect to the many other Dante-enabled products now available which in turn offers a broader networked solution for everyone.'
Key features:
• Plug-and-play networking enables multiple Radius and Edge units to function as building blocks in a scalable system design, from one DSP to many.
• Easy transition to Radius 12x8 with advanced training available online 24/7 and Symetrix technical support staff available for design assistance.
• Twelve mic/line inputs, eight line outputs.
• Configure with SymNet Composer software with over 600 DSP modules.
• Internal gigabit and 10/100 switches eliminate the need for third-party switches in most systems.
• Network audio expansion using Dante protocol over standard IT networks. 64 transmit and 64 receive channels. Ultra low latency.
• User control: Symetrix ARC wall panels, ARC-Web web app, SymNet SymVue, third-party touchscreens.
More: www.audinate.com
More: www.symetrix.co