Movek's myMix Control, a web-browser based software tool for audio network control of myMix systems. at 2012 InfoComm in Las Vegas, NV, Booth C12332.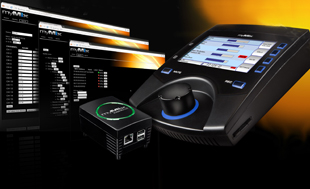 myMix is an intuitive networked personal monitoring and multitrack recording system, that has been adopted by houses of worship, theatres, recording studios, concert sound, fixed installations and commercial sound applications. With the launch of myMix Control, engineers are provided with a new level of flexibility for support, design and operation.
With the coneection of a computer device (myMix Plug) to a networked myMix system the web browser-based software that is built in, any myMix device on the network can be controlled from anywhere. myMix Control streamlines the configuration and support for larger systems used in concert sound, fixed installations and large commercial sound applications. Remote-control configuration and archiving of set-ups reduces expenses by saving time, while offering more control over performer or installation settings.
For commercial and installed sound applications, myMix units can be easily and quickly configured. Locking out unwanted functions and menus (in a boardroom, when used as an intercom/BGM in a retail location, etc) is simple and intuitive. And, if a myMix output is driving speakers, WiFi remote access allows the user to adjust settings remotely.
'Yes, we are control freaks – remote control freaks,' says Movek's Mathias von Heydekampf. 'Remote control capability adds a cool factor to anything but for us, it only made sense to pursue something that would be functional and flexible. It had to be purposeful, not just cool. With myMix Control, engineers get it all. myMix Control is ideal for operating larger systems with constant set up changes, like theaters or production companies, but also allows fast and easy configuration of myMix devices in commercial and fixed install applications. Users can log in from anywhere, back up an entire system, as well as edit, configure or lock units on the network. Fast, simple, cost eliminating – myMix Control is going to push the performance and versatility of myMix to a new level.'
More: www.mymixaudio.com