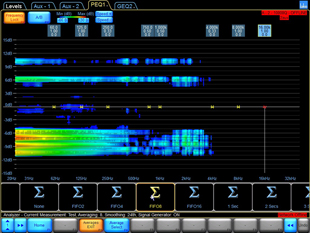 In addition to general enhancements, including optimisation for Windows 7 and improved performance for large system networks, the release of Lake Controller software v6 adds support for the forthcoming Yamaha MY8-Lake card, 'bringing Lake Processing to Yamaha's extensive line of digital audio mixing desks and further enhancing the market's uptake of Lake as a true standard in live sound processing'. It also adds real-time acoustical spectrum analysis with both Smaart 7 and WaveCapture's Live-Capture.
The plug-in support allows measurement traces from either platform to be shown directly within Lake Controller, enabling the user to configure and tune a system in real-time. In addition, Lake support for WaveCapture's suit of tools has been enhanced (Live-Capture has been supported since v5 of Lake Controller) so that filters can be defined and transferred directly any networked Lake device.
With Live-Capture Pro, several measurements can be captured and averaged with a defined target response, allowing optimal placement of filters. The WaveCapture program can then transfer theses filter parameters to the desired module or group overlay on the Lake devices. For example, Live-Capture Pro can find optimal EQ-parameters to voice a sound reinforcement system towards a target response. The Room-mode analyser is integrated with the optimiser, and can generate filters to cure room resonances.