Symetrix has added SymNet Edge to its DSP control catalogue, calling it its 'most exciting commercial audio product yet'.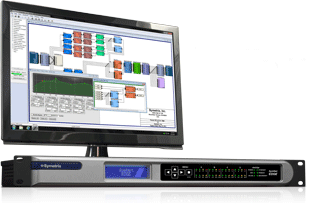 Edge is scalable hardware configured with SymNet Composer open architecture software, that is designed to meet the I/O capacity requirements of the bulk of commercial sound installations. Edge features four configurable I/O card slots, up to 16 channels total of local I/O plus 128 (64x64) channels of Dante network audio. Flexible I/O and plug-and-play networking enable multiple Edge units to scale to project demands.
An internal gigabit switch provides the bandwidth to support Dante to deliver ultra-low latency networked audio. Multiple units may be connected without additional third-party network switches or, with additional hardware, configured for redundant operation with seamless failover.
SymNet Composer software manages all aspects of Edge hardware including audio, control and security with a drag-and-drop CAD-style interface. Composer navigation enables site file design with more than 500 proven DSP modules.
End-user control options include Symetrix' ARC wall panels, ARC-Web browser based remote, SymVue custom standalone user control application, logic I/O, and third-party controllers, such as Crestron and AMX.
'In creating SymNet Edge, we doubled the processing power of its predecessor while continuing Symetrix' commitment to studio-grade fidelity,' says Symetrix President, Dane Butcher. 'Combined with Dante, the world's best next-generation of networked audio protocol, this product is uniquely flexible, powerful and reliable at a price point that is fiercely competitive.'
Consultants and contractors will find 24/7 training accessible online. In addition, the Symetrix technical support staff is available for in-person training and design assistance. The Symetrix website provides instant access to product information, training, user forums, knowledge base, videos, and downloads.
More: www.symetrix.co