MediaMatrix by Peavey has announced the nTouch Series of control interfaces, providing interactive touchscreen management of audio systems designed in MediaMatrix NWare software for the Nion platform.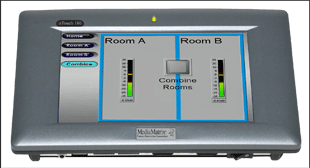 The nTouch 180 and nTouch 60 feature colour, resistive touchscreen panels that measure approximately 7-inch (180mm) and 2.4-inch (60mm) diagonally, respectively. The panels display and control projects hosted on a MediaMatrix Nion or nControl processor.

Based on an Intel Atom N270 CPU, the nTouch 180 controller runs an embedded version of NWare Kiosk software for Nion, the control arm of NWare system design software.
System designers can program the nTouch in NWare and then control an audio project designed in NWare from a remote location. Once the nTouch is programmed, it runs independently of external computers and connects to a Nion or nControl via Ethernet network. Mounting options include surface, panel, flush and general VESA mounting. The nTouch 180 is powered by 12V DC.
The nTouch 60 works in conjunction with the nControl to provide the same functionality as the nTouch 180 in a smaller format, communicating directly with the nControl or Nion processor over Ethernet or an EIA-485 network. Power is provided over Ethernet or via 12-48V DC. The nTouch 60 features an OLED screen for extremely high quality graphics and mounts via standard NEMA 1-gang.
Key features
Touchscreen user interface
180mm and 60mm formats
Operate screens by hand or stylus
Runs NWare Kiosk software for control of projects created in NWare
nTouch 180 mounts via standard VESA 75 mount
nTouch 60 mounts via standard NEMA 1-gang mount
Easy connection and installation
nTouch 180 software upgradeable via USB stick
Low power requirements
More: http://mm.peavey.com