A liaison alliance between Lab.gruppen (owner of the Lake brand) and Yamaha has brought Lake processing to Yamaha digital mixing consoles, via a new dedicated Mini YGDAI (Yamaha General Digital Audio Interface) card.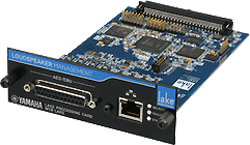 The MY8-Lake card has been jointly developed by the two companies to provide Yamaha's extensive digital mixer customer base with a convenient route to Lake Processing, and will be distributed and supported exclusively by Yamaha – bringing the Lake brand to a wider group of audio professionals.
The MY8-Lake implements Lake Processing technology, including Mesa EQ, Ideal Graphic EQ and linear-phase crossover in a DSP expansion card designed specifically for Yamaha digital mixing consoles. The card supports up to eight inputs and outputs in Mesa mode (system EQ), four inputs and 12 outputs in Contour mode (crossover), or combinations of the above to suit the application. Flexible I/O configuration via the console's insert points as well as the card's AES/EBU connectors, plus the ability to run at 96kHz, 88.2kHz, 48kHz or 44.1kHz, make it easy to integrate Lake Processing into any system.
The latest evolution of the Lake Controller software installed on a compatible Tablet PC allows precision control of the MY8-Lake as well as other Lake devices in the system, including Lake's LM Series and Lab.gruppen's PLM Series. Add access to over 1,000 loudspeaker presets and you're ready to tweak any system for optimum performance in any environment.
'We have worked hard to provide Yamaha digital console users with advanced solutions via Mini-YGDAI expansion cards,' says Yamaha's Pro Audio Division General Manager, Kazunori Kobayashi. 'Through close cooperation with Lake, we are ready to offer the MY8-Lake with leading-edge Lake Processing capabilities that will add unprecedented sonic potential and broader appeal to Yamaha digital mixers. We are proud and pleased to be able to introduce this product as the centerpiece of a new system solution for live sound applications throughout the world.''We are excited by the potential of this product partnership with Yamaha to deliver the unique benefits of Lake Processing technology to a wider customer base. It further reinforces Lake's credentials as a leader in digital audio processing and provides significant flexibility and benefits to both our existing users and those looking to integrate Lake into their systems' says Jon Alkhagen, Lab.gruppen and Lake MD.
Release of the MY8-Lake is scheduled for Q1, 2012.
More:
www.lakeprocessing.com
More:
www.yamahaproaudio.com/global/en/products/interfaces/miniygdai/