Symetrix has released the Zone Mix 761, adding Arc-Web compatibility to the feature set of the earlier Zone Mix 760 installation zone mixer.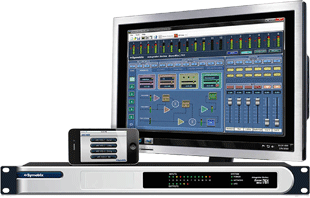 'The Zone Mix 761 steps into the shoes of the 760, which has been among our most popular products,' says Trent Wagner, Senior Product Manager at Symetrix. 'With 12 inputs and six outputs, it excels at three of the most commonly-required functions in small- to mid-sized installations: paging with automatic ducking; flexible routing and mixing; and comprehensive processing at the input and the output. The Zone Mix 761 carries on the tradition of ease-of-use, feature set, and very competitive price point that have earned the Zone Mix 760 a place in restaurants, bars, and hotels the world over. The Zone Mix 761 does everything the 760 did so well – and more.'
Arc-Web allows integrators to build custom interfaces that operate on users' smartphones or internet-connected computers.
'Our Arc-Web technology is a cost-effective way to provide users with custom control of their sound systems from their smartphones or computers,' says Symetrix VP of Sales & Marketing, Paul Roberts. 'We think the form, function, features, and quality of the Zone Mix 761 make it a uniquely powerful choice for integrators and consultants with zone mix applications. Its low price-point amplifies that statement.'
In addition to Arc-Web compatibility, the Zone Mix 761 has a 'modernised aesthetic', similar to that of the Symetrix Jupiter series, and includes a new collection of logic outputs on the rear panel.
More: www.symetrix.co