Apex Audio has extended the functionality of its Intelli-X² processors and Intelli-Ware control software for system management and speaker processing.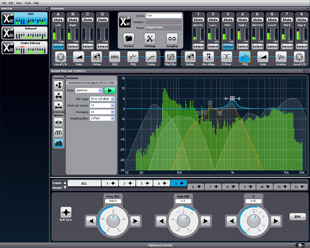 With the latest release, both single channel spectrum and dual channel transfer curves can be displayed as an underlay to all Intelli-Ware parametric equaliser screens (both input and output) and crossover displays. Interactive access to the measurement software display data and parameter controls is also supported.
Two screens or switching of applications are no longer required to view data– a WaveCapture measurement application can be controlled directly from within Intelli-Ware. To maximise flexibility, the measurement and Intelli-Ware applications can be run either from a single computer or from two separate ones – for example, a laptop for WaveCapture and a tablet for Intelli-Ware. With both applications communicating via an IP-based network, absolutely seamless control is now available, making system control and tuning more straightforward.
'Giving engineers the ability to view WaveCapture results directly from within Intelli-Ware will make using the Intelli-series processors even more intuitive, enabling engineer's to save time and help ensure that they get the very most from them,' says Apex Audio Marketing Manager, Jeroen Sierjacobs. 'We are currently working on similar integration with other standards, in order to bring these benefits to an even wider user-base.'
Further updates include drag-and-dropcontrol of PEQ filters (gain, frequency and bandwidth); multiple input and output PEQ filters can be displayed simultaneously as overlays, while scales for both PEQs and crossovers can be adjusted.
The new features are available as a free update from Apex Audio for users with a WaveCapture license.
More: www.apex-audio.eu