DirectOut has announced the HControl.8, an eight-channel remote controller for the company's Prodigy Series of modular converters and I/O.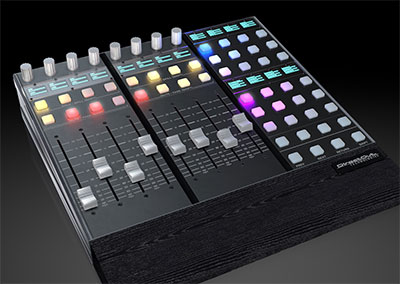 Combined with Prodigy.MP and globcon, the device turns DirectOut's multifunction processor into a (mobile) mixing console. This solution supports a free and flexible mapping of audio channels and functions, such as FlexChannels, Matrix Mixers, and Snapshots distributed over 12 layers.
With its 100mm faders, HControl.8 is not only capable of accurate control, but also receives data from Prodigy.MP displaying fader status and level meter information in a tailored and fully integrated way.
Applications vary between fixed installations, where one Prodigy.MP is controlled by several HControl.8 throughout a conference set-up and remote productions, where several Prodigy.MP in different locations are remotely controlled by only one HControl.8.
'HControl.8 is the answer to all our customers who want to add real faders to the Prodigy platform,' says DirectOut Strategy & Audio Solutions Manager, Luca Giaroli. 'Tactile feeling is quite important in the audio world, especially when managing live or live broadcasted events having fingers on faders and eyes on the gig. The flexibility in mapping the controller via globcon perfectly fits with the Prodigy hardware and software concepts. Combined with HControl.8 responsiveness, it makes it a great addition to our portfolio to tailor any kind of audio solution.'