Optimal Audio has updated its WebApp and Zone firmware, adding features for both installers and end-users of commercial audio sound systems.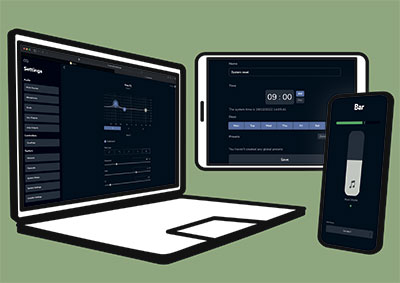 Compatible with any device, WebApp unlocks the technology and capability behind the Zone series for the system installer, while presenting the end-user with an intuitive and simple interface to control the sound system. Hosted by the Zone series, there's no installation required for WebApp – all that is required is to open a browser on a smartphone, tablet or laptop connected to the same network and enter the address.
For the integrator, WebApp provides a visualisation of the entire system and complete configuration can be achieved for refined sound in every room. Additional features include ducking, limiters, metering, microphone volume, advanced signal routing, bridge mode for low impedance and 70V high-impedance loudspeakers, programmable presets, timed events and daily reset routines, returning the system to its original configured set up. WebApp also allows the system configuration files within Zone series to be saved and easily replicated across multi-site installations.
Once a system is configured, installers can lock settings with a PIN, and provide staff with a simple user interface.
Traditionally, the control and operation of commercial sound systems has been complicated and inconvenient to many venue staff, who 'just want the system to work'. WebApp, on the other hand, provides touchscreen-optimised controls enabling staff to easily operate the system and focus on the job in hand. The digital basis of the system also enables additional features and flexibility to be added over time, as WebApp is enhanced from year to year.
If it is preferable for venue staff to use a dedicated controller rather than the Webapp interface on a device, ZonePad wall controllers are a suitable companion. Alternatively, WebApp also supports third-party controllers via OSC over Ethernet.
More: https://optimal-audio.co.uk/products/controllers/webapp