German DSP module manufacturer AllDSP has announced its next generation of OEM products, which will include Milan and AVB audio network technology.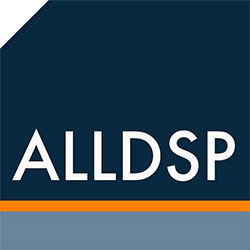 AllDSP's products covers a wide range of DSP applications from entry-level to top-end loudspeaker processors, processor boards to match active loudspeaker amplifier modules, system amplifiers, outboard equipment and audio streaming products, along with complimentary dedicated control software with a customised look and feel.
The forthcoming Milan and AVB modules, the PLP Series, includes the 1800i, 1800B, XM24 and the SBD44, all of which are designed for standalone processors, active loudspeakers or system amplifiers, suitable for both professional and high-end home audio.
The PLP Series is AllDSP's highest channel count, top performance module, suitable for rack processors and system amplifiers, and the 1800i it its highest performance 2×4 or 4×4 module, suitable for system amplifiers and active loudspeakers.
The 1800B is a dedicated 2×4 active loudspeaker module providing a cost-effective alternative to 1800i by integrating the external connectors and indicators, the XM24 is an entry level module with similar acoustic performance capabilities to the 1800i and 1800B, whils the SBD44 is the most cost-effective module, the SBD44 is a 4×4 fully capable processor with 48kHz sample rate.
'We intend to certify our forthcoming Milan and AVB products with Avnu Alliance later this year,' says Jeroen van Waterschoot. 'We also developed a raft of solutions at the start of the pandemic that have been very well received by our customers.'
More: www.alldsp.com