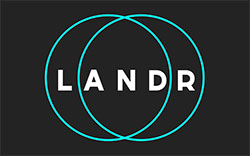 LANDR has announced a new API for its flagship AI-powered mastering, allowing other apps and platforms access to all core features. The API launches with two partners, Offtop, an app that allows creators to write and record full vocal references on the go, and Dao, an artist services platform that combines production, marketing, and distribution.
'LANDR Mastering defined what AI can do for music and set the standard for new mastering technology,' says LANDR CEO, Pascal Pilon. 'This new API will allow us to integrate this tech directly into partners' products. To put it simply, they will be able to add the API to the tools they offer their users.'
Via LANDR's API, partners will be able to offer users online mastering, including three previewable loudness settings and mastering styles that fit a wide range of music genres and audio approaches. They will gain access to LANDR's machine-learning engine, which a team of developers and audio professionals update regularly.
'Audio quality is an underappreciated element of what makes a track or a video go viral,' notes LANDR Head of Strategy and Oscar-winning audio engineer and producer, Daniel Rowland. 'We're helping partners raise the bar on their audio quality, which in turn will help retain users and subscribers and improve the overall quality of what creators can produce and share.'
The API is part of LANDR's aim to provide professional tools to creators at all stages of their journey. 'LANDR's platform is designed to clear away all roadblocks to creation, from the first notes or beats to the final polish of mastering,' says Pilon. 'We want to bring some of this artist-friendly simplicity to our industry partners, to help more creators realise their visions.'
More: www.landr.com/en