Allen & Heath has announced two new Audio Matrix Processors, AHM-32 and AHM-16, supported by scalable I/O, control and Dante solutions.
Appropriating technology from A&H's AHM-64 Audio Matrix Processor, the AHM-32 and AHM-16 widen the platform's use in installed audio environments, allowing it to address anything from a single boardroom to a complete campus, with simplicity of programming and control, plus expandable audio networking and I/O capabilities.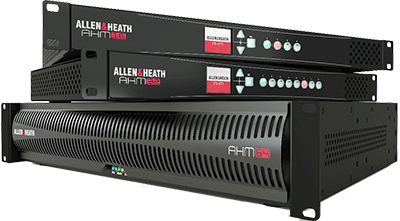 'We are thrilled to see AHM-64 at the heart of so many installations, from global media networks to theme parks' says Allen & Heath Head of Product, Nic Beretta. 'Many integrators we spoke to were eager to see the same approach and technology deployed in a smaller package to suit a wider customer base, and we have delivered on those requests with the AHM-32 and AHM-16.'
The AHM-32 is built on a 32x32 processing matrix with 12 local analogue inputs and outputs, suiting it to multi-room installations in hospitality, corporate and education environments. Optional Acoustic Echo Cancellation (AEC) module is available for teleconferencing and videoconferencing applications.
The AHM-16 features a 16x16 processing matrix with eight local analogue inputs and outputs. Out of the box, the AHM-16 is particularly well suited to single room applications and smaller multi-room environments including bars, restaurants, shops and school halls.
Both units offera 96kHz I/O port for audio expansion and networking, enabling the use of a 64x64 Dante card for integration into Dante networks and connection to Allen & Heath's range of Dante equipped expanders. Alternatively, an SLink card can be fitted for plug-and-play connection to Allen & Heath's Everything I/O ecosystem of remote expanders.
A range of remote-control options are supported, including an array of PoE remote controllers and the BYOD-friendly Custom Control app, enabling tailored user interfaces for multiple user and device types.
Both models feature a suite of processing tools derived from the AHM-64, including Automatic Microphone Mixing (AMM), Ambient Noise Compensation (ANC), Priority Ducking, an eight-band parametric EQ on every input and zone, plus speaker processing options.