Symetrix has expanded its Bluetooth endpoint series with the xIO Bluetooth RCA-3.5, and announced the latest update of Composer software with the 8.1 release.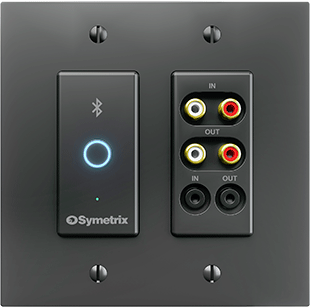 Composer 8.1 is the latest version of Symetrix's DSP and system control software, and brings new control capabilities with scripting API for HTTP Client operation. This allows Symetrix devices to control and monitor other third-party devices that use HTTP control protocol, such as video switchers, video streamers and power sequencers from presets or a control screen. Composer 8.1 also brings more robust control screen design capabilities that support larger controls and more flexible fader, meter and knob scale customisation.
'With more than 65 new fee-free features and improvements, there's something in this release for everyone. Composer 8.1 continues to show Symetrix's commitment to increasing value for our customers,' says Symetrix Director of Product Development, Ben Olswang.
The xIO Bluetooth RCA-3.5 is the latest fully integrated member of the Symetrix xIO family of Dante endpoints, allowing complete configuration, including Dante routing, from within Symetrix Composer software. The plate's gold-plated 3.5mm RCA connectors provide stereo analogue audio connection for user-supplied devices. The Bluetooth can be configured to allow media-only connectivity, phone bridge connectivity or both, while the analogue I/O can be configured to use the RCA or various mono-sum combinations. Available in black and white, dual-gang with IP control and PoE power simplify installation by allowing a single cable connection to a PoE-enabled network switch.
'Our customers operate in diverse locations,' says Symetrix US National Sales Director, Scott Wrege. 'The Bluetooth RCA is a real problem solver in providing a variety of quick and easy connectivity options. Integrators who are working in applications like fitness centres, hotel banquet facilities, and K-12 and higher education environments are excited about the capabilities of the Bluetooth RCA.'