Powersoft Audio has announced v2.2 of its ArmoníaPlus system design software, bringing a 'major update' to integrators including the ability to share projects and work collaboratively in the cloud.
Primarily designed for systems engineers, but available in both ArmoníaPlus skins (install and Live Sound), the new collaboration feature allows users to save projects in a Microsoft-based cloud, in addition to on a local drive. Project owners are then able to access and work on files remotely from any internet-connected PC, as well as invite colleagues to collaborate on the project via a simple email link.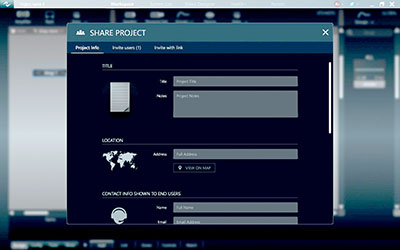 After joining a project and being assigned a specific role (either an editor or full project owner), all collaborators can see the full version history of a cloud project, listed in chronological order, so that installers will always have access to the latest version of the project, even when last-minute changes are needed, while system designers can provide remote support in-application.
The remote storage, which is free for all registered MyPowersoft users to use, also provides a secure location to archive projects after completion.
'Cloud storage has changed the way people work and has allowed the creation of new ways for us to interact with each other,' says Powersoft Product Management Leader, Leonardo Weber. 'We wanted to bring this advantage to Powersoft users as well.
'Storing and sharing ArmoníaPlus designs in the cloud will not only allow teams to collaborate during the design and install phases of a project, but will also make remote support much more simple and effective. No more need to be exchanging files by email when support is needed or to be searching for the latest version of a project.'
Also introduced with v2.2 is the ability to monitor the status of Powersoft amplifiers via the SNMP protocol. Intended for fixed installations with a central monitoring platform, SNMP (Simple Network Management Protocol) provides systems integrators with information on network devices such as printers, switches and amplifiers. ArmoníaPlus's implementation of SNMP relays essential data on the status of amplifiers and their operating conditions, including device faults and availability.
Powersoft amplifiers supporting SNMP include Mezzo Series, X Series, T Series, Quattrocanali DSP+D Series, Duecanali DSP+D Series and Ottocanali DSP+D Series.
Other innovations introduced with v2.2 include four zones on four-channel Mezzo – users of Dynamic Music Distribution (DMD) systems are now able to drive up to four independent zones with a single 324A/AD or 604A/AD amplifier. Mono-mix Dante sharing enables distribution of stereo sources as mono mixes in Dante in all Mezzo amplifiers. SIs using DMD can now have more global music sources available for selection in the system reducing the number of channels and flows used. WM Touch network recovery means that users can configure the IP address of a WM Touch, Powersoft's wall-mounted touchscreen control solution, from ArmoníaPlus, even if the device is set in a different subnet.
Dante configurations warnings allow ArmoníaPlus to warn users when their system design could exceed the maximum number of Dante flows available. Similarly, the software will display a warning when ArmoníaPlus users design a system that potentially generates Dante fan-out conditions.