Cedar Audio has announced Trinity 5, the latest revision of its audio surveillance system, which features several important new features including Isolate, Cedar's blind source separation option that allows users to isolate individual speakers from background noise and babble.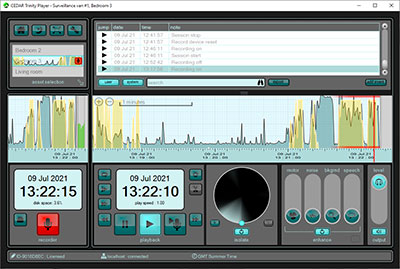 Depending upon the variant installed, any host running Cedar Trinity 5 can be used as a self-contained system or as part of a distributed system that allows multiple users to access numerous live streams and recordings. Each has its own combination of benefits, making it possible for users to specify and install the system that best matches their requirements.
'Cedar Trinity 5 is a huge leap forward from previous systems,' says Cedar MD, Gordon Reid. 'First, it incorporates Cedar's unique AI-based speech detection, which means that the system itself will find and mark the voices in the audio, saving operators a huge amount of time when looking for the speech in extended recordings.
'Next, it features varispeed without changing the pitch and timbre of the voices. This has been requested for many years, and now allows operators to change the playback speed of recordings in the range 20%-150% of real time without harming intelligibility. But most eye-catching of all is the addition of Isolate. This is a genuine "first" that can isolate one or more wanted speakers in a soundfield, rejecting unwanted noise and other speakers that would otherwise contaminate the recording. The increase in intelligibility has to be experienced to be believed. Of course, Cedar Trinity 5 also retains all of the features of previous versions, making it, perhaps, the most powerful long-term audio recording and monitoring system ever developed.'
More: www.cedaraudio.com