Røde has released Røde Connect software for podcasting and streaming with the NT-USB Mini microphone.
Launched in 2020, the NT-USB Mini is designed to deliver professional audio direct to a computer for podcasters, streamers and musicians. Røde Connect expands the capabilities of the NT-USB Mini, while offering a platform for both podcasting and streaming.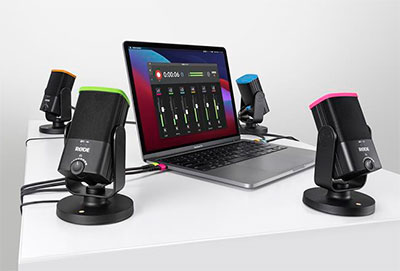 'The NT-USB Mini, coupled with Røde Connect, marks a huge leap forward for simple solutions that allow anyone to create a professional sounding podcast,' says Røde CEO, Damien Wilson. 'And the possibilities the software offers for livestreaming applications are incredibly powerful. No other audio company in the world is doing anything like this.'
Røde Connect allows up to four NT-USB Minis to be connected to a single computer – previously this required complex routing and complicated software to set up. Røde Connect features an intuitive, fully featured recording interface inspired by the RødeCaster Pro, complete with broadcast-style faders, one-click recording, level metering, mute buttons, output control, and flexible optimisation and export options for uploading to all popular podcasting platforms.
There are also two 'virtual' channels (Virtual and System) for connecting remote callers via communications apps like Zoom and Google Hangouts, and for adding music beds, stings and sound effects, pre-recorded interviews or any other audio from external sources.
These virtual channels combine with the four microphone channels to accommodate up to six podcasters at simultaneously. Each channel has mix-minus signal routing applied, ensuring echo-free communication between hosts and guests.
Røde Connect is also a powerful solution for gamers wanting to simplify their audio set-up. In addition to offering a flexible interface for controlling audio from the NT-USB Mini, Røde Connect's virtual channels allow integration of audio from chat applications like TeamSpeak, gameplay sound, and other audio sources.
There are also dedicated output controls for streaming apps like OBS or Xsplit.
Each NT-USB Mini offers digital signal processing (DSP) power that can only be unlocked using Røde Connect. This gives users access to a noise gate, compressor and legendary Aphex Aural Exciter and Big Bottom effects.
To mark the launch of Røde Connect, Røde has released three accessories for the NT-USB Mini. Colors is a kit of colour-coded caps for the NT-USB Mini and colour-coded rings for Røde USB-C and USB-A cables. These match the colours of each channel in Røde Connect, making it easy to keep track of who is talking.
Røde has also released two new high-speed, 1.5m-long USB cables, the SC17 (USB-C to USB-C) and SC18 (USB-C to USB-A) for connecting the NT-USB Mini to any computer.
More: www.rode.com