Symetrix's Solus couples SymNet open-architecture used in the company's Jupiter line of processors with cost-saving fixed input/output counts for small to mid-size installations.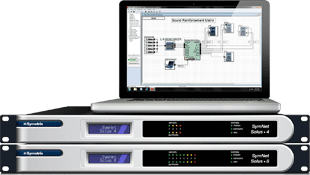 SymNet Designer software enables integrators to use or modify dozens of Solus templates, or build new designs from scratch. Currently, there are two Solus hardware units that differ only in their input and output counts. Solus 4 has four mic/line (+phantom) inputs and four outputs, whereas Solus 8 has eight mic/line (+phantom) inputs and eight outputs. Unlike other members of the SymNet family, the Solus processors forego input/output expansion in favour of reduced cost.
The Solus 4 and Solus 8 share the same set of communications and interface possibilities. Each boasts Ethernet, ARC port, RS232 port, two control inputs, and four logic outputs. Solus software and hardware fully support Symetrix ARC wall panels,
end-user control panel application), as well as
popular third-party control systems. To eliminate guesswork and speed the installation process, a front-panel LCD shows system settings.
'The Symetrix Jupiter fixed-architecture system is hugely popular, but there are many situations where system designers require the flexibility of an open-architecture processor,' says Paul Roberts, VP of Sales & Marketing. 'At the same time, there are many situations where the all-encompassing capabilities of the SymNet 8x8 DSP and its kin are overkill. The Solus processor is a happy medium. It is the most cost-effective SymNet solution to date for jobs that call for standalone open-architecture DSP.'
More: www.symetrix.co