Cedar Audio has announced Cedar Studio 9 for Mac, the latest version of its audio processing and restoration suite for AAX Native, VST2, VST3 and AU formats, which is compatible with all Intel-based Macs.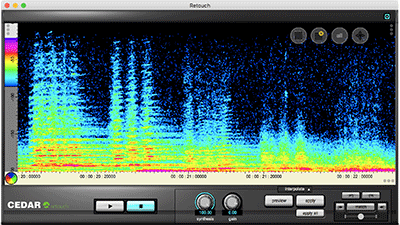 Ready for when the DAW manufacturers accredit their software for macOS 11 Big Sur, Cedar Studio 9 for Mac is also compatible with all previous Mac operating systems from OS X 10.12 (Sierra) through to macOS 10.15 (Catalina). Among algorithmic improvements, Cedar Studio 9 includes the new version of Retouch with its machine-learning Matching and AI-driven Repair capabilities.
Presently, four Cedar Studio 9 packages are available: Cedar Studio 9 DNS includes both DNS One and DNS Two for all dialogue noise suppression requirements in post and elsewhere; while Cedar Studio 9 Restore incorporates eight advanced algorithms (Declick, Decrackle, Auto Dehiss, Declip 2, Debuzz, Adaptive Limiter, as well as Manual Declick and Dethump) for all audio restoration applications; and Cedar Studio 9 Retouch uses spectral editing to provide the most effective way to deal with otherwise intractable audio problems.
Cedar Studio 9 Complete combines all 11 processes from the three Cedar Studio 9 packages.
Cedar Studio 9 for Mac is AAX Native compatible on Pro Tools v11, v12 (32-bit and 64-bit), 2018, 2019, 2020 (64-bit only), as well as VST2, VST3 and AU. Retouch is also supplied as a standalone application. Since VST and AU are streaming environments, the offline processes – Manual Declick and Dethump – are available for AAX only.
Cedar Studio 9 for Mac is available immediately.
More: www.cedaraudio.com