Fulcrum Acoustic loudspeakers has released manufacturer presets for for use with Dynacord electronics via Sonicue sound system software, adding flexibility for consultants and integrators designing multi-brand systems to align with specific application or budget requirements.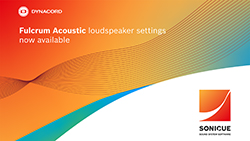 A Fulcrum loudspeaker installation can now run on a single Dynacord amplifier and DSP/matrix platform with the assurance of optimal performance – all with complete and unified system control via Sonicue.
The collaboration brings Fulcrum Acoustic loudspeaker models into the powerful Sonicue ecosystem, for seamless integration with Dynacord's system-wide range of hardware solutions – including IPX, L and C series power amplifiers, and the new MXE5 matrix mix engine. Key features of the flagship IPX series include the following: fully integrated 96kHz resolution with FIR-Drive processing; power density options of up to 20kW from a single amplifier; Omneo IP architecture, incorporating Dante audio, AES70 control and more; Eco Rail technology, which can reduce power consumption by up to 50 per cent; Ghost Power, a problem-solving audio technology for power outages; flexibility both for low- and high- impedance applications, with parallel and parallel/bridged power drive modes; and a plug-in for interoperability with the Q-Sys platform.
'Dynacord's engineers are passionate about their products and were very helpful during the extensive preset development effort,' explains Fulcrum Acoustic Product Manager, Rich Frembes. 'A Fulcrum preset database hosted by Dynacord is immediately available to our mutual customers when Sonicue software is installed; this makes deploying a Dynacord/Fulcrum system incredibly easy.'
See also:
Dynacord Sonicue 1.2