Lawo mc²-series audio production consoles and surface-less operations – including mc² Micro Core – can now be controlled via internet connection including using a smartphone as a 4G personal hotspot. This control of a broadcaster's Lawo audio production environment extends worldwide.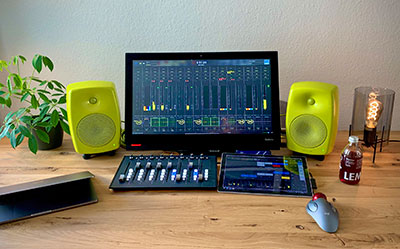 Lawo's Mix Kitchen is offered as a long-term solution for any occasion when physical access to a broadcast centre is inconvenient or impossible due to such factors as changed travel arrangements and traffic conditions. Central to the set-up is remote fader control using a Mackie HUI-compatible fader panel. Mix Kitchen requires slight configuration adaptions (using supplied templates) to enable the Nova73 console core on the broadcaster's premises to be remotely controlled.
In addition, Mix Kitchen solution enables in-place access to any Mac- or Windows-based computer in the broadcaster's data centre, and can be complemented with a vsmPanel providing full remote control over hundreds of third-party broadcast studio devices. Mix Kitchen includes LiveView video monitoring capabilities in combination with Lawo IP video solutions.
No additional hardware is required: readily available, off-the-shelf tools, a laptop and Lawo's mxGUI software (included with all mc²-series mixers) allow an engineer to take control of the Lawo hardware at the broadcast centre or hub. Mix Kitchen only transports monitoring and control data, keeping mission-critical TX audio within the facility's infrastructure and avoiding bandwidth-hungry multichannel audio transport.
'Based on remote-control experience gathered in recent IP projects, we wanted to make these benefits available to all engineers who have to cope with social distancing measures around the world,' says Lawo Senior Product Manager for Audio Production, Christian Struck. 'The Mix Kitchen set-up works almost out of the box: no additional Lawo hardware, retrofits or upgrades are required. Audio engineers can work with an inexpensive fader panel that supports Mackie HUI (Icon Platform X, Behringer X-Touch), their laptop, a mouse and a tablet.'