RME is previewing its DigiCheck NG professional audio metering and analysis software for macOS with 64-bit support. The preview version is a completely rewritten and newly designed version of the former DigiCheck.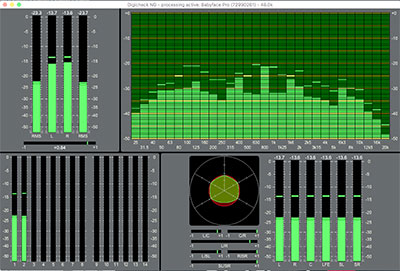 In addition to being fully scalable, DigiCheck NG allows the main windows to include up to four metering modules with freely adjustable sizes. It can open several main windows at the same time. Any configuration can be stored and recalled as Workspace. DigiCheck NG is user intuitive with a simple right click providing all options for every module.
The settings of each measurement module are similar to the previous version of DigiCheck and include new extensions, such as Phosphorescence in the Analyzer module. The appearance is also set individually for every instrument and the input selection dialog has extended mouse support and additional buttons for easy setup of multichannel interfaces.
'The new preview version of DigiCheck NG is not an updated version of the previous DigiCheck; instead it has been fully rewritten and freshly designed from the ground up,' says Derek Badala, Director of Sales Americas Synthax, distributor of RME. 'It's compatible with all RME interfaces and users will receive the same measurement functions as before with newly added benefits, including full scalability with all modules.'
DigiCheck NG is free and is compatible with macOS, up to Catalina. Dark Mode is also supported, and a Windows version will follow.
More: www.rme-audio.de