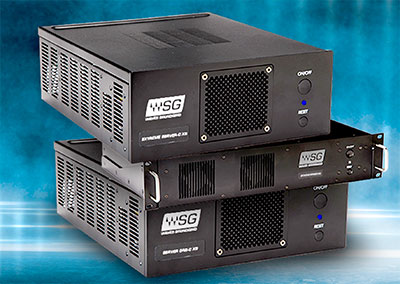 Waves Audio has announced X9 versions of three SoundGrid DSP Servers, bringing more processing power. The units have been updated with ninth-generation Intel Core CPU, supporting processing of audio through plug-ins at ultra-low latency.
Waves is shipping Intel ninth-generation processors with the SoundGrid Extreme Server-C Server immediately, a compact and powerful, light and robust DSP unit that processes hundreds of SoundGrid-compatible plug-ins in real time, live or in the studio – taking only half the width of a standard rack. It features eight Core Intel Coffee Lake i7-9700 CPU and 8GB RAM.
Shortly, Waves will also start shipping two further server models with the new processors – the full-rack SoundGrid Extreme Server (which offers the same specs as the half-rack SoundGrid Extreme Server-C in a full-rack profile); and the SoundGrid Server One-C (a compact, lightweight and tough DSP unit that relieves your computer from plugin processing), which features four Core Intel Coffee lake i3-9100 CPU and 8GB RAM.
More: www.waves.com