Bluesound Professional has launched streamers, amplifiers, a powered speaker, a control panel and rackmount accessories based on the BluOS multi-zone audio content management interface for commercial applications.
The products are aimed at commercial applications using music content, including restaurants, bars, cafés, hotels, gyms, malls and similar spaces. When on the same network, the devices discover and interface with each other, and using the BluOS Controller App for desktops and smart devices, a Bluesound Professional wall mount controller, or one of the popular control systems integrated with BluOS, installers can then configure a nearly limitless number of zones of streamed audio content from a variety of sources, including commercially-licensed music from SoundMachine.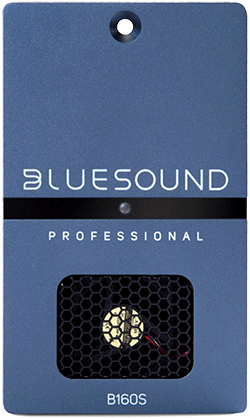 Streamers represent the most central building block of a Bluesound Professional system, providing configurable, zoned audio streaming capabilities. The B100S BluOS Network Streaming Player and B400S 4-Zone BluOS Network Streaming Player are designed to be rack mounted and connected to either a distribution amplifier with passive speakers, or directly into powered speakers. As single devices, the B100S can stream to one zone, while the B400S can stream to up to four zones.
The A860 8-Channel Power Amplifier is a traditional distribution amplifier designed to be a companion to the streamers, while the B160S BluOS Streaming Stereo Amplifier is a two-channel amplifier with the network streaming benefits of BluOS built in, for a compact way to deliver audio content to a zone.
Featuring a 3.5-inch (89mm) low-frequency driver and a 1-inch (25.4mm) high-frequency driver, the BSP125 is a 25W amplified speaker with built-in DSP to allow for equalisation and other audio processing. It is also BluOS Enabled, meaning it will connect to network-accessible music sources and communicate with other BluOS devices on the same network. With surprisingly robust response across the frequency range (45Hz-20kHz) for its size and a THD+N rating of 0.003% at full-rated power, the BSP125 is a versatile, premium sounding speaker for any commercial installation.
Bluesound Professional products can be controlled with the free BluOS Controller app for Windows and Mac desktops, and for iOS and Android smart devices as well as from many third-party control systems. With an intuitive interface and rich customization options, BluOS Controller offers convenient and nuanced system control.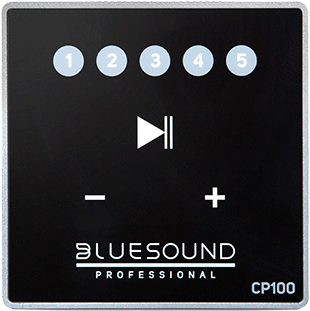 For hardware control, the CP100 is a low-profile, wall-mounted, illuminated touch-sensitive controller. With a variety of international backboxes and powered by PoE, it is easy to install and connect to a network to control Bluesound Professional devices. The controller can be locked to protect against unintended or unauthorised use .
The RM100 and the RM160 rack accessories are designed to complement the B100S BluOS Network Streaming Player and the B160S BluOS Streaming Stereo Amplifier respectively. The RM100 will hold up to three B100S players in a 1U-high rack space, while the B160S will hold up to six B160S in a 3U-high rack space. These accessories allow for maximum versatility and space efficiency in a system head.
A Bluesound Professional streamer, like the B400S 4-Zone BluOS Network Streaming Player, can be added to the system head and connected to an existing distribution amplifier and speaker configuration. The streamer would be connected to the network and either via the BluOS Controller app or a Bluesound Professional hardware controller like the CP100, the system can then access a variety of streaming music options.
The decentralised way in which the Bluesound Professional products are designed means that without making changes to the system head, streaming music can be achieved with the addition of BluOS Enabled end points like the BSP125, a powered speaker that houses advanced processing capabilities. Simply run power and an Ethernet connection to the speaker and through the BluOS Controller app or the CP100, the user can have full control of streamed audio content.
The new products will ship in Summer 2019