Peavey Commercial Audio (PCA) and Neets have jointly developed a driver for PCA's Digitool family of digital audio processing units for matrixed zone processing.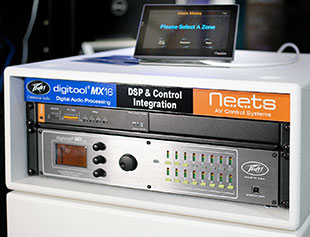 The driver is currently available for the Digitool MX16 and Digitool Live devices, and works with all Neets A/V control interfaces with IP connectivity. These include the TanGo control system that enables touch control through Neets hardware, Android/iOS devices and standard browsers allowing for custom GUIs.
The Neets/Digitool driver offers an IP-based command set including input and output channel level and mute control, level and mute functionality for all audio matrix points, and the ability to trigger internal preset loads.
'Essentially it opens up a whole new range of applications and opportunities for both Digitool users and Neets users,' says PCA Operations Manager, James Kennedy. 'It gives Digitool customers access to a range of highly effective, low-cost, control solutions capable of simultaneously controlling multiple hardware devices such as screens, projectors and amplifiers, as well as the Digitool for efficient, cost-effective, system-wide control. In essence, the combination of Digitool and Neets A/V controllers offers an extremely economic alternative to many of the well-known and often very expensive control solutions on the market.'
The Digitool/Neets driver is available within the Neets Project Designer drag-and-drop configuration software as part of the device driver library, which is also available as a separate download from the Neets website.