DirectOut has announced beta v0.6 of its globcon global control software platform, increasing overall usability and making the management of professional entertainment equipment even easier.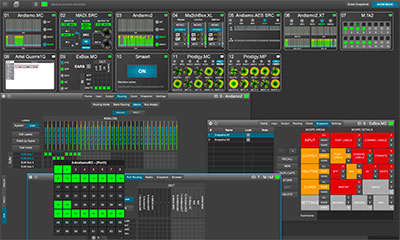 Among other features, snapshots are now available for DirectOut's Andiamo series, Madi.SRC, ExBox.MD, MA2CHBox.XL and M.1K2, allowing users to store and recall all parameters controlled via globcon. When a snapshot is taken, all current values are stored into a dataset. It is possible to recall the whole dataset or create a so-called scope-set to change distinct areas of the settings while leaving the others untouched. Snapshots are not only supported for single devices but also on a global level, increasing automation and flexibility.
'The possibility of having a coherent and consistent approach for snapshot management of any device is, with no doubts, one of the key points of globcon. This feature is a great adding to those devices which didn't have snapshots natively implemented,' says DirectOut CTO and MD , Claudio Becker-Foss. 'Global snapshot will be one of the most appreciated features from those designing or managing a system'.
The beta of globcon also provides enhancements for existing plug-ins, such as the Andiamo series, MA2CHBox.XL and M.1K2, an improved demo version of the Prodigy.MC plug-in and a new demo plug-in for the Prodigy.MP. The updated plug-in for M.1K2 now supports label management and includes a new feature called 'globcon square meter' which allows to monitor in real time all the 64 incoming channels of each single Madi port.
More improvements are also already in place including Rational Acoustics Smaart v8 integration via API, faster USB discovery and DO.Net performances.