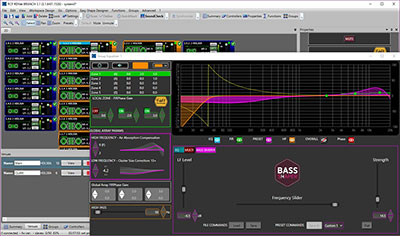 RCF has released v3.1 of its RDNet monitoring and control software, improving handling and control of RCF systems and adding further features. All users of RDNet-enabled boxes, starting with the first line array TTL 33-A, can get the software and v3.1 free of charge by visiting RCF's website.
The new features include the ability to calculate the angle of individual line array modules, and manage motor pick points, make load calculations and determing the safety factor directly in RDNet. The DSP settings can be transferred directly into the line array. Based on the prediction previously created and at a click of a mouse, the line arrays' HF-correction can be adapted to the changing environmental conditions of the crowded location.
Using the Bass Shaper, target curve adjustment and better time alignment between line arrays and subwoofers are easy. With only three sliders, users can operate the Bass Shaper. Finally, the complex topics LF-level and target curves are de-mystified.
No additional crossover is required when connecting subwoofers to the array. As a result, the subwoofers now match the line array modules, regardless of the desired crossover frequency. Phase slopes also match.
More: www.rcf.it