d&b audiotechnik has introduced the R90 Touchscreen remote control to assist workflow in permanently installed applications where adjustments to a d&b audio system are performed by staff with limited technical knowledge.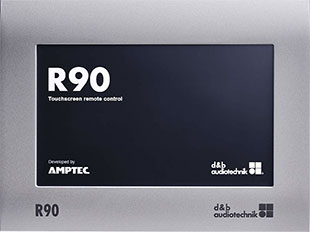 Simplifying the general operation of a d&b system, the 7-inch panel PC grants any user one-touch control of predefined functions – power, mute, level, grouping and recall of up to nine AmpPresets. All control functions in R90 work independently of the d&b R1 Remote control software, eliminating the possibility of accidentally altering any of the carefully balanced system settings.
'An installed sound system can be quite comprehensive, so d&b wanted to develop a tool that would open up its general operation to non-technical venue staff,' explains d&b Project Manager Wolfgang Schulz. ' The R90 enables most of the functions you would need to use on a daily basis to be accomplished with one touch. Of course, it also had to be something that was also simple for system integrators to incorporate into either a new or pre-existing installation.'
Set-up and configuration of R90 project settings can be accomplished quickly and easily, after which everyday activities can be managed without a technician present. Running AES70/OCA, the R90 Touchscreen remote control can be easily integrated into any d&b system (using up to fifteen amplifiers) without additional programming.
The hardware consists of a 7-inch touchscreen (800 x 480 pixel) Industrial PC (IPC) device. It incorporates a 1GHz ARM Cortex-A8 processor in a steel housing with aluminum front. All connectors are accessible from the lower rear panel. A low installation depth and pull-out clamping levers facilitate easy mounting without any loose parts.
R90 is part of the d&b workflow, an extension of the d&b System reality and designed to work in complete harmony with d&b amplifiers and provides a complete installation package consisting of impeccable sound quality and ease of use.
More: www.dbaudio.com