The Icon Platform Nano is a compact USB-Midi controller that can operate either standalone, or as part of a larger set-up alongside other controllers in the Icon Platform Series. Designed primarily for mobile recording and smaller set-ups, the Icon Platform range brings the power of dedicated audio hardware to 'in-the-box' production, adding hands-on control to recording, mixing and editing audio with a DAW.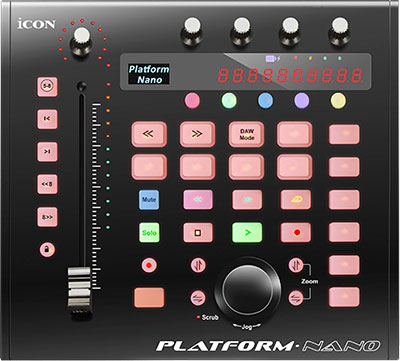 Providing quick access to a range of common tasks like selecting and arming tracks; setting timeline markers; and zooming and navigating projects; the Platform Nano also offers musicians tactile control over levels and panning, and for recording automation. Features include a single 100mm touch-sensitive, motorised fader with 10-bit resolution; jog wheel and transport controls; backlit LCD; and a selection of illuminated shortcut keys and rotary encoders. Mobile battery power and wireless Bluetooth operation is also possible via the optional Platform Nano-M1 (sold separately, expected Q2 2019).
The Platform Nano also features a User-Define Mode, enabling users to create their own customised MIidi-maps. Each button and encoder (along with the motorised fader) can be programmed by the user to perfectly suit any task, opening up a variety of potential uses in the studio.
Support is provided for all popular DAWs, with a selection of silicon shortcut overlays included for Ableton Live, Adobe Audition, Bitwig, Cubase/Nuendo, Digital Performer, FL Studio, Logic Pro X, Pro Tools, Reaper, Reason, Samplitude, Studio One and Sonar.
Built to the same height and depth dimensions as the Platform M+ and Platform X+, the Platform Nano sits perfectly alongside other USB controllers in the Platform Series. An expansion connector on the back panel allows for direct connection to other Platform control surfaces, and the Icon D2 Display (sold separately) can also be connected to provide more detailed parameter information.
The Icon Platform Nano is expected to ship during Q1 2019.