DiGiGrid has announced three new interface and SoundGrid processing products –the IOS-XL, DGS-XL and MGR – promising 'a combination of power and flexibility for users who work in multiple environments or need to take their studio sound on the road'.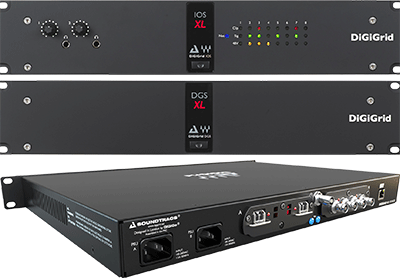 The DiGiGrid IOS-XL is a comprehensive audio interface and processing platform for studio and live use. Building on the DiGiGrid IOS, this includes an Extreme i7 Server offering double the DSP for increased SoundGrid plug-in processing and mixing power. The interface provides eight mic/line inputs with premium preamps, eight line outputs, two headphone outputs, Midi I/O, SPDIF and AES inputs and outputs, and an integrated four-port ethernet switch that provides users with extensive expansion possibilities.
The DiGiGrid DGS-XL is a stand-alone Extreme SoundGrid i7 DSP Server with an integrated four-port PoE-capable network switch for simple integration into SoundGrid systems; users can connect any of DiGiGrid's range of network connected audio interfaces for more inputs and outputs. With PoE capabilities, the DiGiGrid Desktop interfaces are simple to add; a single Ethernet cable carries both the audio signals and the power.
Together with the SoundGrid Studio System, MultiRack SoundGrid or Waves LV1, DiGiGrid IOS-XL and DGS-XL enables users to mix and monitor in real time using hundreds of SoundGrid-compatible Waves and third-party plugins, with a super low latency of 0.8ms.
The DiGiGrid MGR quad Madi interface provides a natural extension of the DiGiGrid MGB and MGO Interfaces. The 1U-high MGR takes either BNC Copper or LC optical Madi cards, making the unit totally flexible for integration into any Madi set-up. With a choice of Multimode or Singlemode fibre on the optical Madi card, and with redundant power supplies, the MGR is suited to critical live and broadcast applications.
With four Madi connections and a built in SoundGrid switch, users can record and playback up to 256 channels at 48kHz or 128 channels at 96kHz. When combined with a DiGiGrid DGS-XL SoundGrid Server, the MGR allows users to take advantage of the Madi recording and real-time processing system.
'Our customers are always the touchstone for our product development, and we have responded to their feedback with the most powerful, networkable audio interfaces and servers yet,' says DiGiGrid Brand Manager, Dan Page. 'With twice as much DSP power and connectivity now available, there is no reason for any engineer to compromise on the number of tracks and sonic tools to use in their mix.'
More: http://digigrid.net