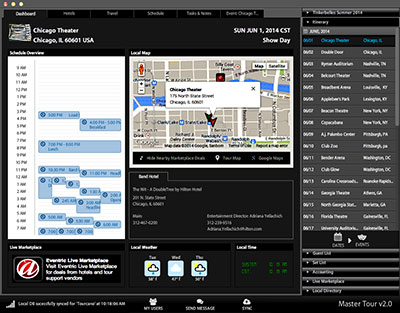 Chicago-based provider of software and online services for the professional live entertainment industry Eventric has announced v3.0 of its Master Tour Logistics and Revenue Management system, with new features and improvement currently in private beta testing.
SaaS company Eventric is a crew of former (and sometimes current) tour managers and live event professionals whose products have supported the work of more than 125,000 live-event professionals for more than 15 years, sweeping away spreadsheets, group texts and other unwieldy and fragmented tracking and messaging systems. Based on user feedback, the latest version of Master Tour, MT3.0, is the most streamlined and powerful to date.
'We've worked really hard to pare down the number of clicks or taps needed to get from place to place,' says Matt 'Sators' Satorius, lead developer for Eventric, sound engineer, and former tour manager. 'The goal is to make Master Tour ridiculously simple to use, while keeping all the functionality to deal with anything and everything a tour will throw at managers.'
New features:
More visibility options: Master Tour now allows admins to determine who sees what.
Autosyncing: MT3 updates users automatically, while still functional in a completely 'offline' environment.
Guestlist features: MT3 admins can set a total number of available guest list spots for users.
Customisable, printable reports: Daysheets, tourbook, call sheet, setlist, and financials.
At-a-glance accounting.
Multilingual: MT3 will soon be available in additional languages including Spanish, French and German.
'As a tour manager, you learn to plan methodically for every foreseeable challenge and to respond rapidly to the unexpected,' says Paul Bradley, Eventric CEO and former tour manager. 'We respond to our users' needs because they are out there, managing expectations and making sure everything goes smoothly for artists and crew. They don't have time to mess around with their tech.'
More: www.eventric.com