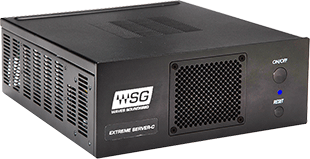 Waves Audio has announced the SoundGrid Extreme Server-C and SoundGrid Server One-C, plug-in processing units for the studio and live applications.
The compact and lightweight 2U-high DSP unit is powered by a Intel Skylake i7 processor and can process hundreds of SoundGrid-compatible plug-ins in real time, taking up only half the width of a standard rack. It supports mixing of live shows or track overdubs in the studio with real-time plug-in processing. This is possible thanks to its ultra-low latency: as low as 0.8ms at 44.1, 48, 88.2 and 96kHz. A single server can be rackmounted using rack ears, or doubled up with a second server for redundancy.
The SoundGrid Server One-C. Compact DSP unit also relieves a computer from plug-in processing duties using a Skylake i5 processor. Supporting the same sample rates and with the same latency as the Extreme Server-C, it hosts SoundGrid-compatible plug-ins in real time, live or in the studio.
More: www.waves.com