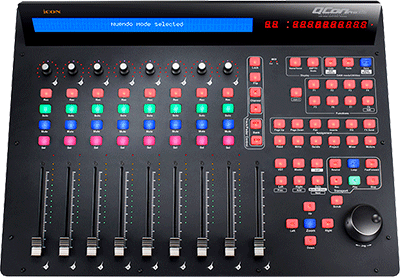 Icon Pro Audio has announced its next-generation USB-Midi control surfaces, the Icon QCon Pro G2 DAW Controller and the Icon QCon EX G2 Fader Expander. Both support all popular DAWs on both Mac and PC, and can be used either standalone, or as part of a larger Icon set-up with multiple controllers.
The Icon QCon Pro G2 is the update to the Icon QCon Pro, Icon's cost-effective, cross-platform control surface. An alternative to mouse-and-keyboard software control, Icon's DAW controllers bring hands-on control to in-the-box recording and mixing, combining the workflow of physical knobs and faders with the flexibility of recording software.
The Icon QCon Pro G2 features updated faders and encoders, along with an improved jog wheel. Each of the eight touch-sensitive, motorised channel faders (plus master fader) is 100mm in length and features 10-bit resolution, allowing for small and accurate adjustments during recording and mixing. As a result, many common tasks become simpler and more intuitive, allowing setting of multiple gains and levels, muting and solo of instruments or fader groups, changing of plug-in parameters such as EQ boosts and cuts, and adding automate effects sends on the fly.
The QCon Pro G2 continues to support a long list of software including Cubase/Nuendo, Logic Pro, Pro Tools, Studio One, Reaper, Ableton Live and Reason, but with the addition of overlays and support for FL Studio, Digital Performer, Studio One, Adobe Audition and a User Define Mode.
Set-up has also been simplified, with four modes to choose from upon start-up. Depending on the DAW, presets operate via the Mackie Control Protocol, Mackie HUI (for Pro Tools) or the dedicated Logic mode (for Logic Pro). What's more, the QCon Pro G2 also features a User Define Mode, which allows users to create and save custom Midi maps. If more than 8+1 faders are needed, Icon Pro Audio also offers the QCon EX G2 fader expander.
The QCon EX G2 can be used either standalone or to provide an additional bank of eight motorised faders for your QCon Pro G2. Up to three QCon EX G2s can be added to the QCon Pro G2 for up to 32-channels of touch-sensitive, motorised faders for comprehensive and creative control of a DAW. Other features include illuminated buttons for mute, solo, record arm and channel select, a dual-function rotary encoder on every channel, and a 12-segment LED meter bridge.
Both the Icon QCon Pro G2 and Icon QCon EX G2 are shipping now.