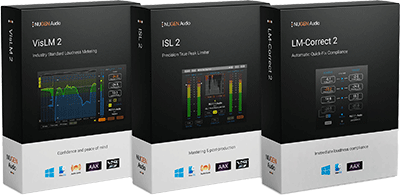 Nugen Audio has made further updates to its Loudness Toolkit, including an additional alert and flexible gating options for VisLM to fully support forthcoming guidance and internal recommendations from major content producers.
LM-Correct is updated to handle 7.1 and 7.1.2 de-interleaved files offline (in addition to the existing stereo and 5.1 support) and natively handle 7.1 and 7.1.2 tracks in the Avid and Adobe timelines, when applicable.
Loudness Toolkit now includes the DynApt extension for LM-Correct. DynApt is a standard for all new customers and upgrade options are available for existing users in their online account areas on the Nugen Audio website. LM-Correct works in concert alongside VisLM and ISL to deliver unsurpassed quality and workflow efficiency.
A new toolset Surround Suite includes Halo Upmix, Halo Downmix, ISL surround limiter and SEQ-S surround match-and-morph corrective spline EQ. From stereo to 5.1, 7.1, Dolby Atmos 7.1.2, Auro 3D and Ambisonic output, the new surround suite is a perfect complement to any multi-channel workflow.
'Following the introduction of updated ITU guidance for the measurement of multichannel audio beyond 5.1, the Loudness Toolkit family of products has been updated in order to enhance the workflow for engineers in the industry,' says Creative Director, Jon Schorah. 'We will also be showing our post-production bundles for the first time at IBC. The bundles were designed to deliver our intuitive algorithms in unique combinations tailored to specific projects and workflow needs. IBC is a great place for us to showcase these new bundles and we look forward to hearing the feedback from industry professionals.'
More: www.nugenaudio.com