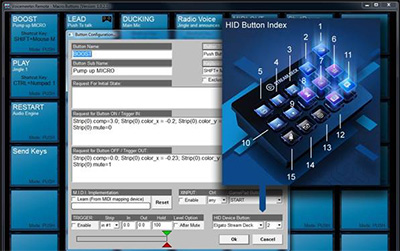 VB-Audio Software has updated Voicemeeter, the Virtual Audio Mixer for Windows, to offer additional audio tools including an 8x8 gain matrix to allow management of multi-speaker system on a given bus, and a 15-band graphic EQ for PA system correction on a given bus. Both are simple applications processing audio inside Voicemeeter thanks to the Audio API.
While Voicemeeter is widely used for games and streaming, the MacroButtons Application now can support HID devices to control any buttons and send request(s) to Voicemeeter (also possibly through local network thanks to VBan-text protocol). The first HID implemented device is the Elgato Stream Deck that can now be used with MacroButtons as well (while keeping the Stream Deck functions in the same time).
VBan Protocol is increasing being used in the broadcast world to transport audio on local network, and can also be used for internet and VPN applications as well as directly by using internet public IP-Address. The advantages of VBan protocol to transport audio (on any network infrastructure) are the native PCM quality and the ease of set-up a connection, requiring only the destination IP-Address.
Voicemeeter Standard & Voicemeeter Banana are distributed to End Users as Donationware without constraint. After having tested it you can pay a license fee and adjust the license price according to your means or usage.
Voicemeeter Audio API is available to any developers wishing to take advantage of Voicemeeter as a virtual audio board or simple audio system component.
More: www.voicemeeter.com