Cedar Audio has announced Cedar Studio 8, the latest incarnation of the Cedar Studio suite of plug-ins.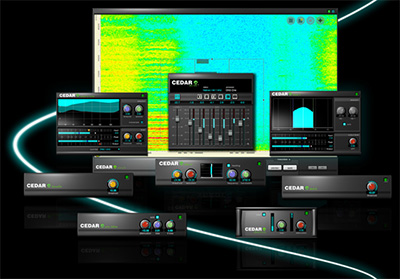 Building upon the foundations laid down by Cedar Studio 7, the new release improves existing capabilities, adds new modules and extends the suite's compatibility with a wider range of plug-in formats. It also makes the processes available at a lower proce point than previously.
Available immediately, Cedar Studio 8 is supplied as a range of AAX, VST 2, VST 3 and AU plug-ins (as well as offering a standalone version of Retouch) and comprises 11 advanced processes that allow users to eliminate a wide range of common problems and significantly improve the sound quality of audio. Each Cedar Studio 8 process is derived from the Cedar Cambridge flagship, and provides unsurpassed results quickly and with the minimum of fuss and user intervention.
The latest modules include DNS Two, Manual Declick (Pro Tools only), Dethump (Pro Tools only) and Declip 2.
The newly developed algorithm in DNS Two has already proved to be the quickest, simplest and most effective dialogue noise suppressor to date. In almost all cases, using DNS Two is as simple as switching on Learn and then adjusting the attenuation to obtain the desired amount of noise reduction. For location sound recordists and studios who already use DNS 2s, the DNS Two process will allow replication of work and fine-tuning them for the best possible results.
Extended scratches and clicks are encountered on many audio media – film, tape or disc, whether analogue or digital. Manual Declick (Pro Tools only) is optimised for restoring these, and its unique dual algorithms – optimised for long clicks and scratches – will remove noises ranging from those found on optical soundtracks, to drop-outs and extended digital errors.
Conventional declicking processes are unsuitable for restoring audio containing extended low-frequency thumps. Dethump eliminates these, replacing the unwanted sound with restored low frequency audio, addressing many of the problems previously associated with optical soundtracks, cylinders, discs and even modern recordings when, for example, microphones and stands are bumped.
A significant step advance over the original Cedar Declip, Declip 2 removes clipped samples and reconstructs the original signal, improving clarity, eliminating distortion, and restoring the original dynamic range of the damaged audio. Unique to Declip 2, the latest algorithm even tracks the clipping amplitude so that material that has been processed with dynamics packages can still be restored.
The news processes are available in four bundles.
More: www.cedaraudio.com