Bose Professional has expanded its ControlSpace sound processor line with six new DSP models, and three digital wall controllers.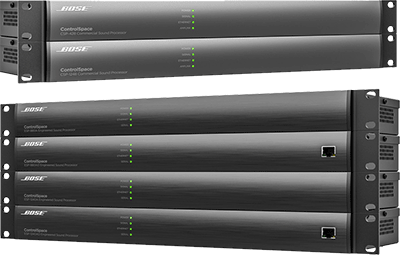 The new ControlSpace CSP-1248 and CSP-428 commercial sound processors offer I/O and simplified configuration for small-to-medium-scale projects. They are designed to serve as standalone DSPs in commercial applications such as retail stores and restaurants, or any public place where modest processing, high-quality sound and facilitated installation are desired. They include balanced analogue I/O, RCA inputs, eight GPIs, one GPO, a mute contact, RS-232 serial, Ethernet network (for configuration or wall control) and Bose AmpLink out, for simplified digital audio connectivity to supported power amplifiers.
The new ControlSpace CSP models feature quick set-up using an integrated web server with browser-based control software. Much like setting up a wireless router, installers use a PC or Mac and a browser to access the CSP configuration page. This real-time interface features live metering and is designed to augment the natural workflow of commercial projects with common tasks such as setting sources, paging thresholds, adjusting EQs and tuning limiters presented in an intuitive and logical manner. This approach reduces complexity by presenting common processing needs for repeatable commercial applications, minimising design errors and ultimately reducing installation time – without extensive DSP training.
The new CSP models include the proprietary algorithms, configurable using the control software. These include AutoVolume compensation, which continuously adapts zone output level based on the ambient noise of that room (when paired with the new Bose ANC sense microphone accessory) to maintain consistent programme material; SmartBass dynamic equalisation to enhance the low-frequency output of small loudspeakers.; Opti-voice paging for smooth transition between the music and page signals; and Opti-source level management to monitor the input level of up to four sources, with source levels continually adjusted to maintain a consistent volume level among different source.
In addition to the new ControlSpace CSP processor line, Bose has also updated two ControlSpace ESP fixed-I/O engineered sound processors. The ESP-1240 and ESP-880 models have been upgraded based on integrator feedback to include options for Dante audio networking and Bose AmpLink connectivity. The new variants – the ESP-1240A, 1240AD, 880A and 880AD – inherit a fresh visual appearance while maintaining key features from their predecessors.
New ESP-1240A and ESP-880A engineered sound processors have 12x4 and 8x8 analogue I/O, respectively, with integrated Bose AmpLink output for digital connections over Cat5 to Bose AmpLink-equipped Bose amplifiers. The new ESP-1240AD and ESP-880AD versions have both AmpLink and 32x32 Dante onboard. All four ESP models use ControlSpace Designer software for configuration, control and monitoring, and support scalable networked audio systems.
To complement both the new ControlSpace CSP and ESP processors, Bose has also introduced the CC-1D, CC-2D and CC-3D digital wall controllers. Each comes in white and is available in regional variants. They feature attractive styling with a single rotary encoder and circular LED ring. The CC-2D and CC-3D models allow the rotary encoder to be pushed for A/B or A/B/C/D source selection with LED source indicators on the panel. In addition to the new digital wall controllers, the new CSP and ESP processors are supported by ControlSpace Remote, where custom control panels can be built to end-users for wireless control of systems from mobile phones, tablets and laptops.
More: https://pro.bose.com