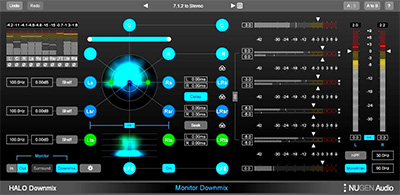 Nugen Audio has released an extension for Halo Downmix which adds capability for downmixing 7.1.2 Dolby Atmos bed tracks to 7.1, 5.1 and stereo.
Along with the 3D Immersive Extension, all versions of Halo Downmix have been updated to introduce greater control over the centre channel energy placement when downmixing to channel counts above stereo. This new centre channel divergence control enables precise handling of the amount of centre channel spread into the left and right channels in the downmix. This is a versatile way to either directly translate the centre channel energy or move it into the left and right channels by choosing a degree of phantom centre.
'Halo Downmix is already well established as a powerful solution for accurately and easily delivering an original surround mix in stereo,' says Nugen Audio founder and Creative Director, Jon Schorah.
'Now, we're adding the ability to downmix and balance 7.1.2 content, it's ideal for re-purposing, re-balancing and auditioning an even wider range of audio.'
More: www.nugenaudio.com.com