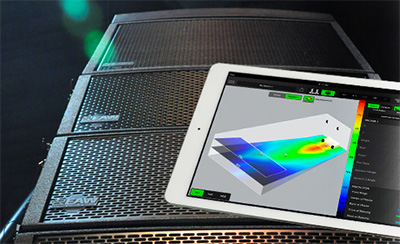 EAW has upgraded its Resolution 2 and EAWmosaic software.
EAW Resolution 2 simulation software predicts the performance of EAW loudspeakers within a venue. Driven by proprietary F-Chart acoustics modelling software, Resolution provides extremely precise acoustical modelling using measured 3D acoustic data.
Users can now import external graphical images as plan and sections views in order to aid the rapid building of Resolution models from architectural drawings. For Adaptive system users, the new Adaptive Health Display assembles all available system health information in one place and provides guidance for action and easy one click healing.
The EAWmosaic app offers design, prediction and system optimisation for EAW's Radius family of loudspeakers, and can now run natively on both Mac OS and iOS operating systems. This upgrade allows system integrators and production houses to use the software, helping users virtually model, forecast and evaluate a loudspeaker system's performance for any user-defined venue. It will also predict direct SPL levels throughout the virtual venue and perform rigging calculations to ensure that a design is safe for the application.
'Our software plays key roles with EAW loudspeaker systems. These updates are the result of listening to our partners, watching them work and using that experience to improve the effectiveness of our software in what they do every day,' explains Louie King, Marketing & Communications Manager at EAW.
'With systems that are so tightly integrated, there is huge opportunity for advancement through just software and firmware updates. By regularly capturing feedback and reiterating on it, we are able to increase the value of EAW products even long after they are out in the field and in the hands of our users.'
The downloads are available on the EAW website and through EAW's Application Engineering team (This email address is being protected from spambots. You need JavaScript enabled to view it.).
More: http://eaw.com