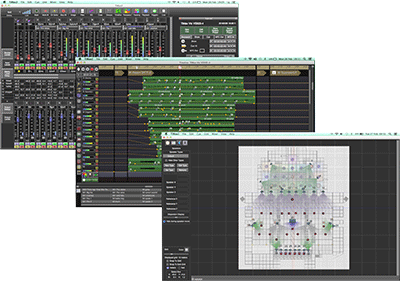 Immersive audio and showcontrol specialist Out Board has announced TiMax 500S software for TiMax SoundHub, with enhanced programming and showcontrol workflows for rendering and control of live, presentation and experiential spatial reinforcement and immersive audio, including new-look variable day/night skins optimised for outdoor, rehearsal and show conditions
Based on input from leading sound design associates, along with direct experience of TiMax developers working on high-profile shows in the field, StageSpace allows auto-calculation of delay-matrix localisation objects derived from three-dimensional data imported directly from CAD files or entered directly. Integrated TimeLine and PanSpace resources allow quick and easy intensive programming and control of multilayered immersive soundscapes and showcontrol interactions.
TiMax developers Out Board ia a global market leader in object-baseed immersive spatial reinforcement techniques, having pioneered 'source-oriented reinforcement' during the 1990s and evolved their TiMax systems to become the preferred choice of premier sound designers for authentically spatialised vocal and orchestral reinforcement, as far and wide as New York's Broadway, London's West End, Europe, Scandinavia, Asia and Africa.
TiMax spatial reinforcement and immersive spatial objects can be rendered and adapted for all different stage, audience and sound system configurations, and fine-tuned in rehearsal by the user, because, as Out Board maintains 'experienced sound designers will tell you it's the last few milliseconds or dB of adjustment that make the imaging work'.
More: www.outboard.co.uk